Daniel Hayes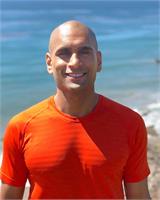 BOXING ANNOUNCER: Ladies and Gentlemen... Let's get ready to RIIIIIIIIDE! Here's your instructor... Wearing the black and blue shorts and weighing in at a lean, mean 160 pounds... He's the former middle weight champ of Trinidad & Tobago (really, he is)... Multiple recipient of the coveted Golden Gloves... He likes Hip Hop, EDM, Rock, and R&B... He's been teaching Spin for two years and he's ready to go toe-to-toe for 12 rounds (or 50 mins, at least) with you! Let's hear some noise for Daniel -- "THE HONEY BADGER" -- Haaaaaaaaaayes!
Daniel Hayes instructs the following:
45-minute Spin, 5 minute cool-down. Non-impact aerobic exercise on a stationary bike, suitable for all fitness levels. Classes combine coaching, strength- and stamina-building, energizing music, cardio-vascular health, and a monster calorie burn.