Sandra Harrison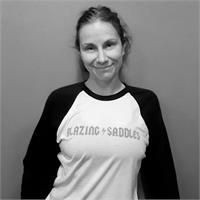 Sandra has been in the saddle for over 14 years - and she's just getting warmed up! This Redondo Beach native has a legion of loyal followers who can't get enough of her electronic hip hop beats and alt edge. Sandra takes pride in teaching great form on the bike and leading her students on a meditative journey, but with jokes! When she's not on the bike, Sandra loves hot yoga and hanging out with her best four-legged pal, Dinero. Besides being ridiculously adorable, D has his own Instagram with nearly 100 followers. Ay Chihuahua!
Sandra Harrison instructs the following:
45-minute Spin, 5 minute cool-down. Non-impact aerobic exercise on a stationary bike, suitable for all fitness levels. Classes combine coaching, strength- and stamina-building, energizing music, cardio-vascular health, and a monster calorie burn.