Lauren Shook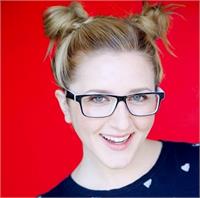 This girl just wants to have fun! Resident comedian, Lauren, wants to make you sweat - and make you laugh! When she's not spinning spokes and cracking jokes, this NorCal gal also loves writing and yoga and is always down for a class. On the bike, she moves and grooves to an eclectic music mix. All joy with no shame, Lauren is a free spirit and a dynamic instructor! She might even sing along if she's playing Beyonce - she apologizes in advance.
Lauren Shook instructs the following:
45-minute Spin, 5 minute cool-down. Non-impact aerobic exercise on a stationary bike, suitable for all fitness levels. Classes combine coaching, strength- and stamina-building, energizing music, cardio-vascular health, and a monster calorie burn.