Lauren Leitner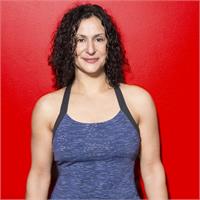 A native Angeleno, Lauren Leitner recently returned home after 5 action packed years in New Orleans. A bundle of vitality and seeker of thrills, Lauren's motto is "work hard and love life." And she does just that. When Lauren isn't Spinning, she may be found choreographing for a Disco dance troop, teaching Zumba, or leading Yoga retreats to Costa Rica. Her classes are infused with energy and passion as Lauren seeks to help her students get the most out of their workouts.
Lauren Leitner instructs the following:
45-minute Spin, 5 minute cool-down. Non-impact aerobic exercise on a stationary bike, suitable for all fitness levels. Classes combine coaching, strength- and stamina-building, energizing music, cardio-vascular health, and a monster calorie burn.