Brent Gutierrez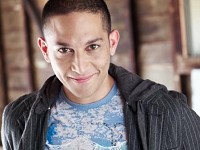 Yo DJ pump this Spin class! As a pro DJ, Brent custom mixes his own tunes, giving his classes a high octane, "club" vibe. He brings over 10 years of experience to Blazing Saddles and an unbridled enthusiasm that permeates from every pore of his body. When he's not on the bike, you might see Brent running marathons or running from the law -- playing a "bad hombre" on TV! Recently heard from a student -- "This dude rocked my socks and beat me into submission! Sign me up for his next class!"
Brent Gutierrez instructs the following:
45-minute Spin, 5 minute cool-down. Optional bonus workout for the upper-body following the Spin at no extra charge. Non-impact aerobic exercise on a stationary bike, suitable for all fitness levels. Classes combine coaching, strength- and stamina-building, energizing music, cardio-vascular health, and a monster calorie burn.